06 août 2012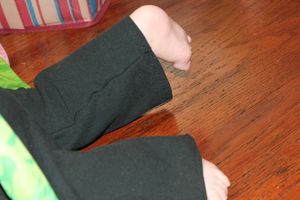 pantalons turquoise pour PetiteFee et noir pour PetitMonkey
blue pants for LittleFairie and black for BabyMonkey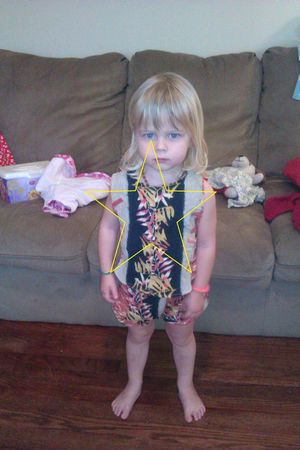 Home made
Elle est super contente hein!
She's so happy right!?!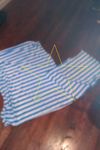 OUIIIIIIIIIII je sais je n'ai rien publier depuis.......ouf X temps!!!!
Voila un petit swap qui est parti dans le SUD!
YESSSSSSSSSSS I know I haven't published since.....a long time!!!
This is a little swap who goes in the South of France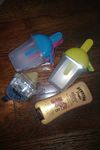 09 juin 2012
Ma copinaute Cycy vient d'ouvrir son blog (enfin) pour feter ca elle a preparer un petit concours avec un super sac a gagner!!!!!!!
Ca se passe ICI
Allez y vittttttttteeeeeeeeeeeeeeeeeeeeeeeeeeeeeeeeee
22 mai 2012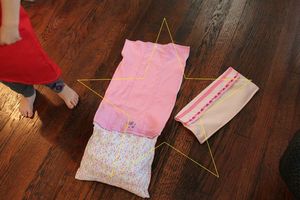 Rien de bien complique.
Photo 1 En rose le tapis,a fleurs la pochette pour les couches-lingettes
Photo 2 en action
Photo 3 pliee prete a ranger dans le sac a main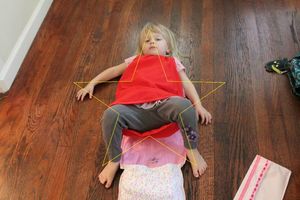 Nothing too complicated.

Picture 1 the pink carpet, flowers the cover for diapers Wipes

Picture 2 in action

Picture 3 folded ready to store it in the handbag
Donc voici cette horreur,couture faites au fil blanc (mais quelle idee debile!!)
So here is this horror, sewing with white threat (but what stupid idea!)
Meme PetiteFee a l'air deprimee!!!! Even LitteFairie look despressed!!!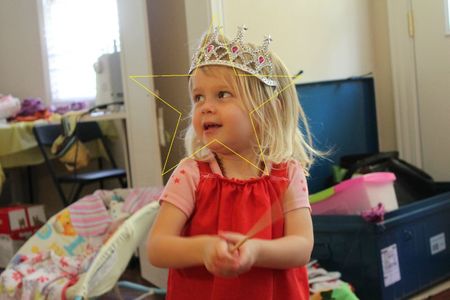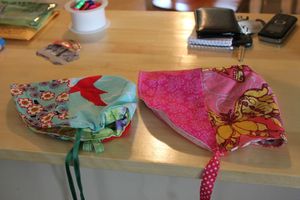 Donc le rose pour PetitMonkey,une de mes copines de MagicMaman a eu recemment une petite poupette.J'ai donc eu envie de lui faire un petit cadeau donc...un chapeau "Laura Ingalls" version "pas trop fifille" demande de la maman.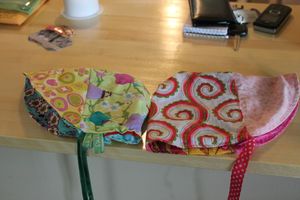 J'ai fait un cote dans les tons bleux et un cote plutot vert/jaune.
Voila un autre en preparation.Je vous ferez un tuto si ca vous interesse!
So the pink for PetitMonkey, one of my MagicMaman's girlfriend had recently a small poupette.So I wanted to give her a small gift ... a hat "Laura Ingalls" version " not too girly" application of maman.

I made a side in blue and a side rather green / yellow.

This is another in a preparation.I can make a tutorial if you're interested!
11 mai 2012
J'ai deja...
1.couper les cheveux de ma petite soeur et la laisser se faire accuser a ma place
2.voler des bonbons
3.pris des cours de dessins
4.demenager pleins de fois
5.teint mes cheveux en rose (et c'etait moche)
6.redoubler ma seconde
7.ronger mes ongles jusqu'au sang
8.eu les cheveux tres longs
9.porter des talons(une fois)
10.passer un CAP Petite Enfance
11.menti (pleins de fois)
12.camper
13.eu des dreadlocks
14.etait Scout et Guide de France
15.vendu des sucettes dans Toulouse deguiser en indienne
16.ete a New York
17.eu du PQ colle sous la chaussure et je suis sortie comme ca
18.ete colle une fois et je me suis faite defoncer par mes parents
19.fais tomber mon petit frere par terre alors qu'il avait 1 an
20.fait de la danse,pendant 16 ans
21.ete interne au lycee et j'ai rein foutue
22.jouer dans une comedie musicale au college
23.eu mon bac du premier coup
24.teint mes cheveux et depuis je n'ai jamais arrete
25.suivi des cours par correspondance
26.fait du karaoke
27.ete animatrice (pendant 5 ans)
28.embrasser mon voisin
29.ete perdue par mon pere dans une foire,et il m'a acheter une glace pour que je ne le dise pas a ma mere,elle ne le sais toujours pas
30.passer la conduite du permis 3 fois
31.participer a une pub (de la figuration)
32.fait du ski et je me suis feler le tibia
33.eu la langue percee
34.sympathiser avec des gens sur internet et depuis c'est des supers copines =-)
35.ete au championnat du monde de roller
36.sauver dans la piscine pour "sauver" mon petit frere qui ne savait pas nager
37.participer a des reconstitutions medievales
38.eu 3 accidents de voitures (2 graves-voiture epave et 1 accrochage)
39.eu un tatouage
40.cousu un costume de danse orientale...
41.et je l'ai porte pour un spectacle
42.ete a Monaco et j'ai vu Stephanie de Monaco
43.coucher avec mon chef scout (pas bien!)
44.pris des cours de couture en anglais
45.fait un voyagehumanitaire au Mali (avec les scouts)
46.eu 2 enfants
47.je me suis mariee a 22 ans (avec mon chef scout)
48.accoucher sans peridurale (et ben ca fait mal!)
49.essayer de fuguer en me cachant dans la voiture de ma mamie(j'avais 6 ans)
50.ete folle et j'ai tout laisse pour suivre mon mari aux USA!!!
I already ...

1.cut hair of my little sister and let her be accused in my place

2.stole candy

3.have drawing lessons

4.move full times

5.dye my hair in pink (and it was ugly)

6.do my second twice (french class)

7.EAT my nails until they bled

8.have very long hair

9.wear heels (once)

10.have a CAP Petite Enfance (french diploma)

11.lie (full of times)

12.camper

13.have dreadlocks

14.be Scout and Guide to France

15.sell lollipops in Toulouse in Indian costume

16.go to New York

17.have toilett paper glue under the boot and went out like that

18.be in retenue once and I got screwed by my parents

19.drop my little brother on the floor when he was 1 year

20.take dance lesson for 16 years

21.be internal high school and I damn kidney

22.play in a musical comedy in college

23.have my bac (french diploma) the first time

24.dye my hair and since I never stopped

25.have lesson online

26.go to karaoke

27.ete camp chief-work in summer camp (5 years)

28.kiss my neighbor

29.be lost by my father in a fair, and he buy me an ice cream that I did not say it to my mother, she does not know yet

30.try to have driving license 3 times finally I got

31.play in a ad (the figurative)

32.skiing and I crack the tibia

33. tongue pierced

34.become friend with people on the internet and since it is of great friends = -)

35.go to the world championship skating

36.jump in the pool to "save" my little brother who could not swim

37.participate at medieval re-enactments

38.have 3 car accidents (2 serious car wreck and one-hooking)

39.have a tattoo

40.sew a bellydance costume ...

41.and wear it for a show

42.go in Monaco and I saw Stephanie of Monaco

43.sleep with my Scout chief (not good!)

44.have sewing classes in English

45.do a humanitary trip in Mali (with Scouts)

46.got 2 children

47.I got married at 22 years (with my Scout chief)

48.give birth without epidural (and it hurts!)

49.try run away by hiding in the car with my grandma (I was 6)

50.be crazy and I leave everything to follow my husband in the US
A vous!!!!

Ma copine Capucine organise son anniblog!!Vite vite c'est jusqu'a demain!
10 mai 2012
Un petit tag que j'ai trouve sur un blog (mais je sais plus lequel!!)
Je retranscris les reponses de PetitMari telles quel (hum orthographe approximative!)
C'est parti mon kiki!!!
A small tag that I found on a blog (but I know which one!)

I transcribe the answers of PetitMari (LittleHusband)

Let's go!
1.Quelle est mon magasin beaute favori/1.What is my favorite beauty store
Yves Rocher
Mes reponses/my answers: J'aime Yves Rocher mais ce n'est pas mon magasin favori,a sa decharge je n'ai pas de magasin favori/I like Yves Rocher, but it's not my favorite store, has his discharge I have no favorite store

2.Les couleurs que j'aime en maquillage/2.The color that I like makeup
Noir,bleu,couleurs peau-visage(beige,creme)/black,blue,nude colors (like skin)
Bleu????Tu m'a vraiment deja vu avec du bleu sur les yeux???Le nude il sais il m'a offert la palette Naked (il me le rappelle d'ailleurs tous les jours:"t'as utiliser ta naked parce que au prix ou je l'ai payer!")/Blue?? You really already seen me with blue on my eyes?? The nude he know he offer me the Naked (he reminds me of it every day: "you got use your naked or because the price I pay! ")

3.Les marques de soin que j'utilise (gels douches,shampooing,visage)/3.The care brands that I use (shower gels, shampoo, face)
Yves Rocher,Neutrogena
Aussi The Body Shop,clean&clear,st Yves

4.Comment est ma peau/4.How is my skin
douce/soft
Merci cheri mais ce n'etait pas vraiment la question/Thank you darling, but it was not really the issue
plutot mixte a tendance grasse/rather mixed oily

5.Les senteurs que j'aime en produits de soin/5.The scents that I like in skin care products
fruits exotiques (coco,passion,mangue..)/exotic fruits
Bien,en meme temps ca fait 6 ans que tu me pique mes produits/Good,in the same time it's been 6 years you stole my products

6.Combien de temps je prend pour me maquiller/How much time I spend for make up in the bathroom
15-20 min
T'as craque du slip!!15-20 minutes je fais tous nettoyage et ravalement de facade en 15min pas que maquillage/Did you crack the underwear (untranslatable French phrase)! In 15-20 minutes I do all cleaning and refurbishment of facade not just makeup in 15min
7.Quel produit de maquillage j'ai en plus grande quantite/7.What makeup product I have in greater quantity
truc pour les yeux (traduction fard a paupieres)/stuff for eyes (translate eyeshadow)
Vrai/True

8.Comment qualifie-tu mon rapport a la beaute/8.How qualifies you my report to the beauty
Aime bien mais pas indispensable/like that but not essential
Vrai/True

9.Comment s'appelle mon blog/9.How called my blog
C'est moi qui l'ai fee C'est maman qu'a fait (c'est moi qui l'ai fee c'est l'asso non??)
Faut suivre cheri/Follow darling

10.Cite 3 enseignes beaute/ 3 beauty shop
Yves Rocher,Sephora,Ulta

11.Cite 5 marques beaute/5 beauty brand
L'oreal,Yves Rocher,Naked,?,?
Naked c'est pas la marque(Urban Decay),j'ai pas un seul produit l'Oreal mais il a trouver tous seul bravo!!!/Naked is not the brand (Urban Decay), I have not a single product L'Oreal but he only find alone congratulations!
12.Quelles produits maquillage les filles utilisent-elles?/What makeup products do girls use?
Fond de teint,truc paupiers (toujours fard a paupiere),rouge a levre,crayons/foundation,eyes stuff (still eyeshadow),lipstick,pencils
Bien/Good

13.Qu'est ce qu'une belle fille pour toi?/what is a beautiful girl for you
ma femme / my wife
Il a repondu tout seul sans aucune pression j'etait pas la je faisais popo!/He answered his own without any pressure I was not here I was pooped!
Allez a votre tour j'attend des commentaires reponses!/Go to your turn I expected answers-comments!